We made it back just fine from Indiana last Sunday, early in the afternoon.  Athough it was a very long drive, and we were tired and hot, we had plenty of time for rest and relaxation on Sunday evening, and hubby went to work early Monday morning.  Knowing that I'd have plenty of laundry to work on, I had already taken Monday off myself.
We drove approximately 900 miles up to Indiana, and 900 miles back, just to attend a four-hour party!  And it was worth every  minute!  Not only did we get to see our friends, we got to meet a bunch of new ones!  And hey, everyone should experience a house with some fifty guests on a day when the temperature is (conservatively) at a high of 106!  The poor central air conditioner must have been really tired by the time we left!
I had a really neat thing happen, too!  (Note: I am copying this almost verbatim from my N=1Health blog, because I can't think of a better way to put the story)!
The afternoon was nearly over, I was sitting in a chair by the couch, visiting with people and having a fantastic time, and  Dana comes running through the room and yells at me to get up out of that chair!  I jumped up immediately, convinced I had sat on the cat and smothered it, and she grabbed another, well-worn chair, and demanded I sit in that one.  One does not argue with Dana Carpender when she is directing the activities, so I wasted no time sitting, but I was still wondering what in the world I had done wrong.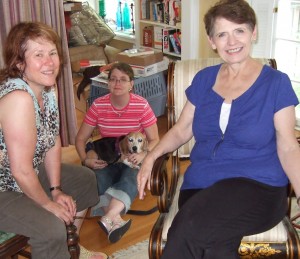 Dana commenced to tell a story about her ancestor, Colonel John Nielson (though pronounced as "Nelson"), who served honorably in the Revolutionary War and owned that chair (meaning, that is one heck of an OLD chair).  I started to get nervous that maybe I might break it or something, but Dana continued on with her story and made me stay there.  It seems her ancestor liked to visit with folks a lot (remember – they had no TV or even radio, so they had to actually talk to one another) and he had a particular old army buddy named George who really liked that chair and sat in it every time he came to visit.
I was beginning to wonder who this "George" was, when all was made clear.  Go look at one of your one dollar bills….whose picture is on it?  Yes, it was THAT George – George Washington – who frequently sat in the chair I was at that minute occupying.  I still get chills when I think about it!
Another exciting highlight was when I was able to buy three dozen eggs that were laid from hens that I had just seen scratching in the dirt!  No battery eggs, these!  These eggs are made from the foods that hens naturally eat.  Strange how a chicken can turn crickets, worms, and bugs – things we would never consider eating on our own – into some of nature's finest foods!  And these are beautiful eggs with a nice dark yellow yolk.  I already want to go back and buy some more!
Other than the weather being so darn hot, we didn't really have any major problems. There was an issue with trying to get through Louisville – what idiot thinks it's a great idea to close three major converging interstates within a huge city on a Friday afternoon at rush hour, the weekend after a big holiday?  Whoever's responsible for road construction around Louisville, that's who!  Once we saw how bad it was going to get (and there's always a potential overheating danger with letting a car idle with the air conditioner on when the outside temperatures are over 100), we managed to bail out onto a side street, but I am not sure that was a lot better.  There are some really bad neighborhoods in north Louisville, as we found out!  Really, I'm sure it's a wonderful town, but it was definitely hard to get around in on that day.
Coming back from Bloomington, we deliberately drove through what I am sure was every cornfield in Indiana, just to avoid Louisville.  And I can vouch for the fact that sometimes a GPS – no matter how reliable – can and will send you to a dead-end street with no warning.  I do believe a new, larger GPS unit (with lifetime map updates)  is on the shopping list for us.
And we're already planning next year's trip to Indiana.  Just hope everything works out so we can make it there!